Restoring Art in the Community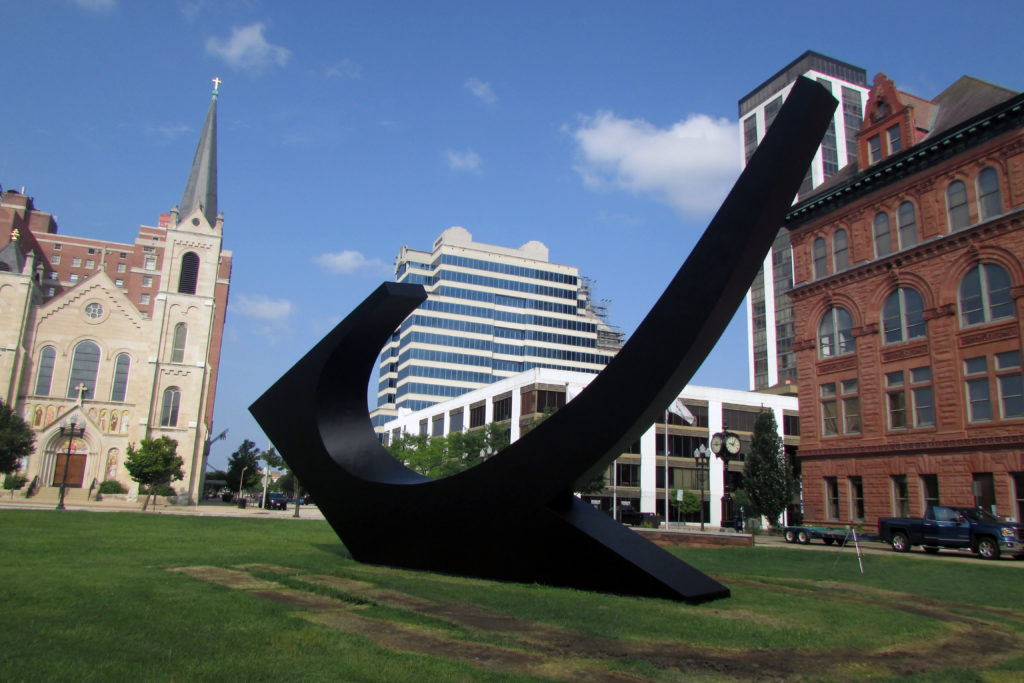 In 1983, the Junior League of Peoria was an integral part of bringing the iconic Sonar Tide sculpture by Ronald Bladen to Peoria.  This sculpture recently underwent a much needed restoration funded by the Junior League and Sharon & John Amdall in partnership with the City of Peoria, the Peoria Riverfront Museum, and Bradley artists Fisher Stolz and Jaci Willis.
Covid Response
Junior League of Peoria has been at work in the community to help our neighbors through this difficult time. We've been able to make a huge impact on our non-profit partners and continue to assist where we can! Thank you so much to our members and partners for the ideas and assistance.
Check out these highlights from our 2020-2021 community outreach efforts:
$3,000 donation to Peoria Grown:  Peoria Grown is a non profit focused on food security and nutritional education.  We have partnered with them to continue providing cooking classes at Dream Center as well as offer a summer garden camp at the Sow to Grow Garden for Glendale Commons families.
$1,000 donation to the Peoria Public Schools Foundation: The Peoria Public Schools Foundation supports Peoria Public Schools students in numerous ways. The Little Free Pantries are a partnership between the Junior League and the PPS Foundation. Located at PPS schools, the pantries provide free nonperishable food items to those living nearby.
Ongoing Community Outreach Programs
Kids in the Kitchen
An ongoing effort to educate and empower children to learn about nutrition and make healthy food choices. JLP has handed off these cooking classes to our partner, Peoria Grown, who continues to work with Dream Center on this effort.  Another big project surrounding food security was the installation of the Sow to Grow Community Garden.  In addition, JLP funded produce stands at Dream Center, Neighborhood House and Glendale Commons so families can have a place to fill their stomachs with healthy items for free.  Peoria grown partnered with us to make this happen.  JLP helped create this garden, which is now run by Phoenix Community Development services.  JLP volunteers still help maintain the garden during Done in a Day events.
Done in a Day
(DIADs) These are short community projects that are planned out in advance and completed by our members in one day. Often involving working with community members in a way that hopefully has a positive impact. These may include, working with children, interacting with special needs adults, room flips, or volunteer support. Through these projects, the JLP supports other non-profit organizations in the area.
Past Projects
Adopt a School ● 2016-2018
Peoria PlayHouse Children's Museum ● 2000-present
I Like Me ● 2006-2011
Hands on Peoria ● 2000-2006
Rolling River Playground ● 2000-2001
KeepSacks for Kids ● 1999-2007
Senior Services ● 1997-2000
Project Success ● 1996-2000
Families Forward ● 1995-1996
Riverfront Awareness ● 1994-1999
Guest Reader ● 1993-1997
Christmas in April* Peoria ● 1993-1996
Tri-Centennial Playground ● 1991-1992
Recycling Education ● 1991-2000
Race for the Cure (Peoria) ●
Women's Health Awareness ● 1985-1991
Family House ● 1982-1991
Ballance-Herschel House Restoration ● 1979-2017
POEM ● 1979-1983
CARE ● 1978-1980
ZAP – Zoo Animal Project (Peoria Zoological Society) ● 1977-1979
Sonar Tide ● 1976-1984
YES – Youth Emergency Service ● 1974-1978
School Loan Program ● 1968-1973
Lakeview Museum Docents ● 1958-1967
Book Bazaar ● 1957-1958
JULEP's Closet 1946 – 2013
Maternity Center / Well-Baby Clinic ● 1938-1944
Children's Theatre & Puppet Shows ● 1935-1971