Little Black Dress Initiative
Save the date for the Little Black Dress Initiative 2020!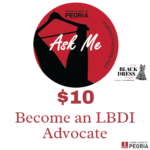 Through this initiative Junior League of Peoria members and the community come together to increase awareness on food insecurity in our area. LBDI Advocates will wear the same black dress for five consecutive days to illustrate the effects poverty can have on a person's access to resources, confidence, and professional opportunities. 
Be ready to join us August 31st through September 4th!
Stay tuned to this page and our social media to learn more about this year's goal.
HOW TO GET INVOLVED
This is a public event – you do not have to be a member of the Junior League of Peoria to participate. If you'd like to learn more about upcoming LBDI events or how to participate, please complete the
LBDI Participation Form
.
Perhaps wearing a black dress or outfit for five days isn't possible for you, but you can still participate by donating to one of our LBDI Advocates who have pledged to raise awareness August 31 – September 4. Other ways to help raise food insecurity awareness would be to spark a conversation regarding these matters, share a statistic to your social media accounts (be sure to tag #JLP), or donate to a local food pantry.
https://junior-league-of-peoria.square.site/
The Little Black Dress Initiative (LBDI) is a global effort started by the Junior League of London to raise awareness about the impact of generational poverty. Participants are encouraged to wear the same black outfit for a whole week along with a button to draw others to ask about their outfit. This small gesture illustrates the lack of resources and options that families living in poverty face. In addition, participants share reflections each day of that week on social media to further share statistics about poverty in their community.
Did you know… Peoria is home to the 2nd most economically distressed zip code in Illinois and the 48th most economically distressed zip code in the nation? You can help the Junior League of Peoria change this devastating fact.
Our History with the Little Black Dress Initiative:
In August 2018, the Junior League of Peoria kicked off its first Little Black Dress Initiative! The week consisted of multiple events that raised awareness about poverty in our community while training and empowering our members to advocate for the causes they care about. We raised $7,000 to help expand our Kids in the Kitchen programming.
In 2019, we continued this initiative with another week of events. We were able to raise over $3,800 to help local families in need. Check out our wrap-up video to learn more about the goals of LBDI and what we accomplished!