May Annual General Membership Meeting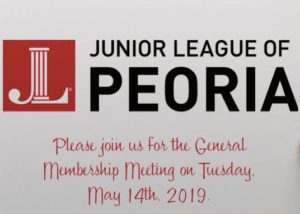 You are invited to celebrate the accomplishments of the 2018-2019 League year at the Junior League of Peoria's May Annual Meeting!
The May GMM will be at Luthy Botanical Gardens in the Orangery with a social from 5:30-6:00PM and the meeting from 6:00-8:00PM. The program will consist of Volunteers of the Year as well as the Passing of the Gavel for the Presidents. More information will be available shortly.
MENU – Catered by Cracked Pepper
Tossed Salad
Parmesan Crusted Chicken
Roasted Baby Baked Potatoes
Assorted Desserts
Cash Bar with Beer and Wine
Please purchase your meal at: http://www.juniorleagueofpeoria.org/product/december-gmm-buffet-copy/
The monthly GMM is a great opportunity for JLP to discuss key issues and distribute important information. In doing this, JLP maintains transparency by keeping members informed on the status of the league.
If you are interested in joining the League, this is a great opportunity to attend and better understand our initiatives.