JLP Sustainer of the Year Announced
During the 2016-2017 Sustainer Luncheon that took place in April, the JLP Sustainer of the Year was Announced.
This years Harriet Vance Parkhurst Sustainer of the Year goes to……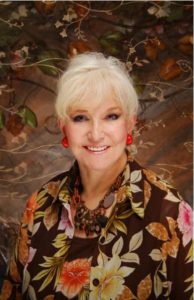 Janet Roth
Janet is the founder and president of Look.  It's My Book!  Janet did extensive research and found there is a statistically significant result of improvement in
reading readiness, reading and a carry over to math skills in giving books to children to have and take home.
Not only has Janet done the research, but she found the volunteers, numbering 350, led the development efforts to raise the money needed in order to provide these book to all primary students in Peoria Public Schools.  Since it was founded in 2008 more than 150,000 books have been distributed to the students.
This past year Janet has been actively reaching out to Sustainers in the League to encourage them to re-establish their sustainer status.  Janet attends Dining Divas, has hosted a Sustainer happy hour in her home, and recently had the group in her home to help label books for Look, It's My Book! Her nominator had this to say about Janet.  "It is difficult to describe Janet's amazing combination of intelligence, drive, creativity, problem solving and good humored leadership that makes her so unusual.  The passion, energy and enthusiasm that Janet and her volunteers display is exceptional.  No one can say no to Janet." She has volunteered with a number of organizations in the community and has received many community awards, too many to list here today.  It is my privilege today to present Janet Roth with this years Harriet Vance Parkhurst Sustainer of the Year Award.  Congratulations Janet!