JLP Sustainer of the Year Announced
The 2018-2019 Sustainer of the Year award goes to….. Joann Blum!
The Harriet Vance Parkhurst Sustainer of the Year Award was created in 1997 to annually recognize and honor a Sustainer for her extraordinary commitment to the Junior League of Peoria and to the community. The award was named in memory of Harriet Vance Parkhurst.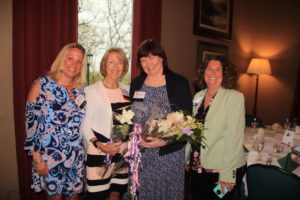 Joann is a sustainer who is always there to volunteer, chat with a new member or learn something new. She has given her time to our Kids in the Kitchen programs at both Richland and Glendale. The kids at these classes love to see her face every month. She attends almost every General Membership Meeting. Recently she has also volunteered weekly at the Dream Center for our Culinary Program. Joann is an amazing JLP member and she deserves every ounce of recognition. Congratulations Joann!